Eligibility requirement for foreign applicants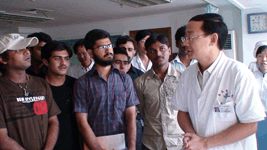 1. Be in good health condition, which accords with the Health Standard for International Students stipulated by the China Education Department.
2. Have college graduation diploma and good academic record.
3. Have basic Chinese language ability for non-English courses
4. Have good moral character and obey the laws and regulations of the Chinese government and regulations of the university. Respect Chinese social customs and habits.
5. Applicants who apply for bachelor programs conducted in English should have certain English proficiency.

Tuition
1. Programs in liberal arts: 20000 RMB/year
2. Programs in science, engineering and business: 24000 RMB/year
3. Programs in medicine and art: 26000 RMB/year
Note: The fees should be paid totally when the applicants get registered.

Procedures for application and admission
1. Directly apply to the International Education Exchange College at Jiangsu University
2. Submit following application materials:
A. Jiangsu University Application Form for International Students B. One copy each for the college graduation diploma and the school report C. One copy of health examination record D.One copy of passport E. Certificate of family finance support
Assemble all relevant documentation and forward your complete application package to the International Education Exchange College at Jiangsu Universtity that offers your program. Applications missing the signature of the applicant will invariably be rejected.
3. Deadline of the admission August 15 of each year
4. Admission
The final decisions of admission are made upon application materials, examination record and health examination record. The Admission Letter will be sent out by the International Education Exchange College before August 15.
5. Length of study
2-3 years for all master programs
6. Registration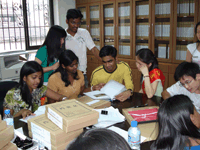 As usual, new students should register at Jiangsu University in the last ten days of September with the Admission Letter and the X-visa. The exact time will be announced on the Admission Letter. Upon registration, students should go through the medical examination. Students whose health conditions do not meet the requirements will be cancelled of their visas.
New students should register on time. A student should submit a written report asking for a leave in case he/she cannot register on time for special reasons. Failure to register within two weeks after the term commencing date without approval will disqualify the student from enrollment.

Living facilities and fees
1. Accommodation fees
International Students Apartment chiefly provides twin-bed rooms. Accommodation rate: 20-30 RMB/day for one bed
2. Board fees
About 12-20RMB/day for one head 3. Medical insurance
As per governmental stipulations, international students should buy the Integrated Insurance Policy for International Students. The rate is 600 RMB/year for one head.
Upon the arrival of new students, the International Education Exchange College will help international students to get familiar with the university and the local city, instruct them how to deal with residence visa and open an account, and be responsible for other works relating to international students.

List of master programs
★International Trade
Cybernetics and Control Engineering
Statistics
Testing Techniques and Automatic Devices
Marxist Theory
System Engineering
Political Education
Patten Cognition and Intelligent System
★Linguistics and Applied Linguistics
Computer Application Techniques
Basic Mathematics
Structural Engineering
Applied Mathematics
Applied Chemistry
Non-organic Chemistry
Safety Technology and Engineering
★Biochemistry and Molecular Biology
Carriers and Applications Engineering
Solid mechanics
Agricultural Mechanization Engineering
★Fluid mechanics
Agriculture, Water and Soil Engineering
Mechanical and Electronic Engineering
Agricultural Electrification and Automation
Machinery Design and Theory
Environmental Engineering
Vehicle Engineering
★Biomedical Engineering
Optics Engineering
Food Science
Testing/Measuring Techniques and Instruments
Grain, Oil and Plant Protein Engineering
Material Physics and Chemistry
Materials Science
Agricultural Product Processing and Storing Engineering
Aquatic Product Processing and Storing Engineering
Material Working Engineering
★Human Anatomy and Tissue Embryology
Iron and Steel Metallurgy
★Internal Medicine
Non-ferric Metallurgy
★Psychiatry and Psychiatric Hygiene
Engineering Thermal Physics
★Clinical Testing and Diagnostics
Thermal Power Engineering
★External Medicine
Power Machinery and Engineering
Pharmaceutics
Fluid Machinery and Engineering
Pharmacognosy
Freezing and Hypothermic Engineering
Managerial Science and Engineering
Chemical Engineering and Machinery
Accounting
Electric Motors and Appliances
★Business Management
Power electronics and Power Transmission
Technical Economy and Administration
Computer Architecture
Telecommunications and Information Technology
Marxist Philosophy
Disaster Prevention and Mitigation Engineering
Advanced Pedagogy
Hydraulic and Hydropower Engineering
Fine Arts
Industrial Catalysis
Artistic Design
Road and Rail Engineering
Probability and Statistics
Traffic Information Engineering
Physical Chemistry
Transportation planning and Management
★Physiology
Environmental Science
Ecology
★Immunology
★Pathogenic Biology
General mechanics and fundamentals of mechanics
Engineering Mechanics
★Pediatrics
Power System and its Automation
★Imaging medicine and Nuclear Medicine
High voltage and insulation Technology
★Oncology
Anesthesiology
Machine building and Automation
★Social Medicine & health Management
Electromagnetic Field and microwave Technology
Physical electronics
★Science of Chinese Traditional Medicine
Signal and Information Processing
Information Science
Computer Software and Theory
Theories & New Technologies of Electric and Electronic Engineering
Agricultural Bio-environment and Energy Sources Engineering