DIWALI PARTY
Diwali party, organized by IEEC, is held at 7:00 on the evening of November 1st 2008 in Home of Teachers. Deputy dean of IEEC, Professor Gao Jing, all the staff of IEEC, all the foreign students from India and those who are interested in Indian culture participated in the party.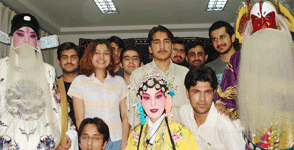 'Diwali' means a row of lights and the festival is so called because of the illuminations that mark the celebrations. Diwali symbolizes the victory of light over darkness. Celebrated joyously all over the country, it is a festival of wealth and prosperity. The essence of this light is Shri Lakshmi-arising, at the beginning of time, out of the waters at the churning of the Milky Ocean by gods and demons for a thousand years. Regarded as the goddess of love, beauty and prosperity, Lakshmi, Kamla or Padma (Sanskrit words for lotus), the beloved consort of Vishnu, along with the dearly loved pot-bellied, elephant headed, auspicious god of the Hindu theogony, Siri Ganesha, is a presiding deity of the festival of lights. They are worshipped in every household so that the year may be full of prosperity. Throughout the night a lamp is kept burning before her image so that she may continue to dwell in the house and bestow upon it the wealth of life.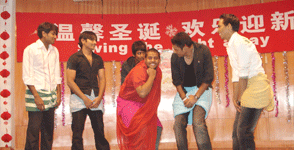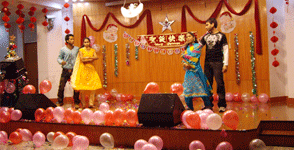 Before the party, Deputy dean of IEEC Professor Gao gave her best wishes to all the Indian students at the beginning of the party and presents for those who did well in the sport meeting and then the party hosted by Two Indian students began with and was full of  enthusiastic Indian dances. Everyone enjoyed themselves very much because there are warm applauses and crazy shouting from the audience for each dances. There are also two Chinese students giving their performance on the party. Indian students had also played games of self-revealing, during which the hostess read the sincere words being prepared in advance. The best and most wonderful part of the party is the game of exotic costumes, which Ms. Gao and Ding also took part in and fully exhibit their imaginations. All the audience were greatly amazed by the creativity and dexterous practical abilities.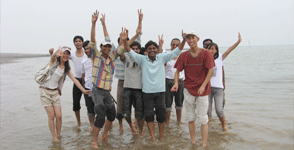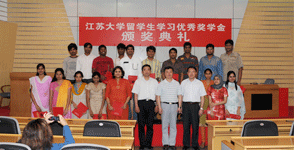 Diwali party enables Chinese to better understand the traditional culture of Indian and its wonderful dances. At the same time, students from Indian could felt the Chinese and IEEC's  respects to them, which would comfort them and encourage them to study hard and take an more active role in the social activities. The Diwali party serves as a very good stage for mutual understanding between students home and abroad.
The Diwali party ended wonderfully in cheers and acclaims.

Visiting Hospitals, Cultural Relics and Scenic Spots ------Social practices of foreign students from IEEC
It is unforgettable and impressive for 22 MBBS students from Jiangsu University on summer vocation, not only because the 2008 Beijing Olympic Games will be held in Beijing in August, but also because the IEEC, working together with Clinical Department and Medicine Department, design and implement a topic activity of Visiting Hospitals, Cultural Relics and Scenic Spots.
From July 8 to August 28, 2008, IEEC organized for more than 8 social practices on summer vocation, including visiting three hospitals and the scenery of Water Town in Southern Yangtze River, experiencing new socialist countryside, appreciating Chinese traditional cultures etc.. All the foreign students were greatly amazed by the strength of Jiangsu University, lost in the beautiful and elegant landscape and immersed in the rich and lively culture. In every hospital visited, surrounding teachers and doctors, they put forward questions one after another: "Do you need foreign doctors?", "Can I do social practices in your hospital? ".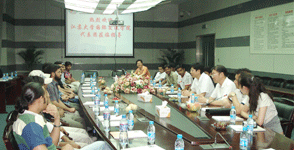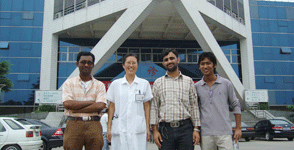 "What if we could stay here overnight", "I love here, I love Jiangsu University", though from different countries with different languages, foreign students express the same feeling, "China is great, It is really fortunate to study here", "I will learn Chinese kongfu, Chinese brush characters, Chinese paintings, Chinese ". Eagerness and amazement excited their strong interests, which encouraged their urge to learn and practice. And their questions changed from "I like " to "I want to know and I want to learn."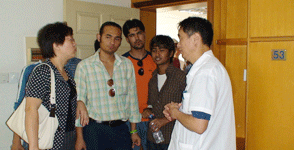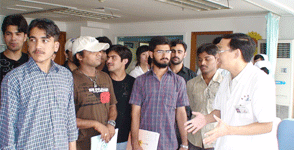 As we all know, what is most difficult and also the highest realm of foreign students education is culture education, because it's the education of customs and spirits that would and should last for a lifelong time.
Although social practices of foreign students is short with only 8 activities in 8 days, everyone engaged received great gains. It's a great chance to let their souls immersed silently but effectively in Chinese culture.

Tour Study of Indian MBA students in Jiangsu University——2009 ABCC Program
The first batch "2009 ABCC" (Appreciating Business Culture in China)--culture exchange program organized by Jiangsu University for foreign students was successfully concluded on Feb. 20, 2009. 54 members are MBA students and teachers from Shankara Vidya Kendra Institute of Management in India.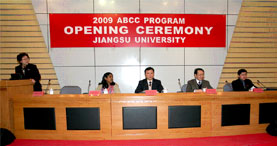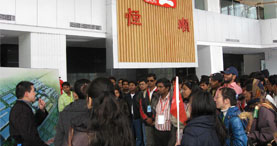 During the 5 training days, IEEC elaborately arranged a Historical and Cultural Tour around Zhenjiang, organized Symposiums concerning Globalization and Impact, International Economy & Trade, business Environment and so on. Some postgraduate students of Jiangsu University enjoyed the symposiums too. Both the students and the teachers form SVK Institute of Management made high comment on IEEC. They were deeply impressed by our beautiful campus, dense academic atmosphere and especially our amazing MBA Education Center. Exchange Programs related to different disciplines have been discussed between the two universities and a preliminary intention has been reached. Indian students and teachers learned a lot from the program. In the farewell party, the students ebulliently expressed their sincere thanks and said: "The ABCC Program joins us together, gives us opportunities to know each other and to be brothers and sisters. Although time is limited, our friendship will last forever."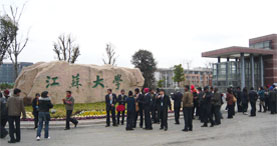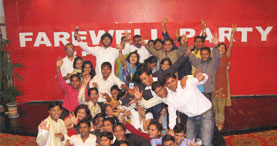 The old Chinese saying "Reading thousands of books is equal to walking thousands of miles" reflects one of the important aspects of our life. Nowadays, tour study abroad has become the import subject for the students in many developed countries and it is one of the important parts of the nature-developing education. The important philosophy for the implication of Internalization of Jiangsu University includes: Prospects, Diversification and Internalization. The organization of the ABCC program is one of the most important measures that can enhance the campus Internalization atmosphere and improve the students' capability of cross-cultural exchanges.