Visa Application
Application of China Visa:
Overseas students are required to apply for a China Visa at the China Embassy or Consulate in your own countries. The application requires the following documents: your valid passport, admission notice (the original copy) and JW202 Form (Visa application form for overseas students).
* Please do not misuse student visa on other purpose such as travelling.
Qualified Student Visa types:
1) X2 Visa
If you study at Zhejiang Business Technology for one semester, you'll get X2 visa with ONLY one entry valid for upto 180 days after you enter mainland China. 
Please don't plan to go outside mainland China, even not to Hongkong, Macao or Taiwan, because your X2 visa will expire after you exit mainland China. Usually X2 visa can't be added more entries.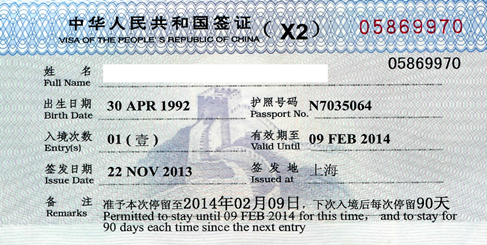 2) X1 Visa
If you study at Fudan for one year or more, you'll get X1 visa with one entry valid for 30 days.
X1 visa is only valid for 30 days after you enter mainland China. Students with X1 visa must apply for a "Residence Permit" within 30 days after entry. With Residence Permit, students will have multi-entries in and out of mainland China.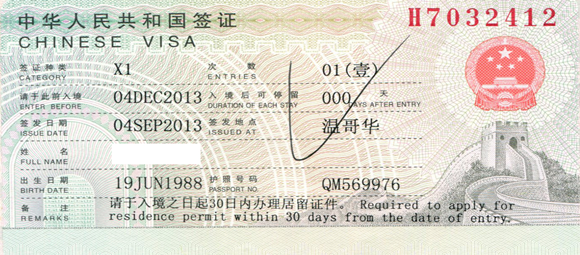 Before picking up the passport and China Visa from Chinese Embassy or Consulate, please ensure that they return your admission notice and JW202 form to you. These are important documents you need to submit to the Exit-Entry Bureau of Ningbo if you apply for your residence permit after you enter China.
Residence Permit valid for 180/360 days ect.
You can only apply for the Residence Permit after you have completed the College Admission Procedures. Hence, we advise students not to enter China much earlier than scheduled registration date; otherwise you will stay illegally when your X1 visa is expired before you get Residence Permit. In order to get Residence Permit, you will have to finish physical examination first:
Those students who have done the physical examination outside China must have the physical examination report verified at the International Travel Healthcare Center, Ningbo Entry-Exit Inspection and Quarantine Bureau. You will be issued a verification form by the center if your documents are verified successfully. Those who do not pass the verification must go through further examinations or redo the whole examination process. The Healthcare Center will then issue a verification report to these successful applicants. According to our experiences, most of physical examination report done in home countries can not be fully verified. Hence, we strongly advise the students to do physical examination in Ningbo.
Ningbo Entry-Exit Inspection and Quarantine Bureau, International Travel Healthcare Center Address: No.336 Liuting Street, Haishu District, Ningbo
Opening Hours: Monday to Friday, 8:00am – 4:30pm
Please prepare the following materials for the Physical Examination or Verification:
(1) Admission Notice
(2) Original and photocopies of your passport
(3) 4 passport-size photos (2-inch)
(4) The whole set of Physical Examination Record (Originals) if you have done your physical examination outside China for verification
(5) Cost of Physical Examination: Around 600 RMB.
*People with the following illnesses or contagious diseases will be refused of entry by the Chinese government. If you do have these illnesses, please abort your overseas study plans:
1、AIDS 2、STDs 3、Leprosy 4、Mental Disorders 5、Pulmonary Tuberculosis
Apply for the Residence Permit after you have completed the College Admission Procedures and physical examination. Please prepare the following documents:
(1) Your Passport
(2) Admission Notice
(3) JW202 Visa Application Form
(4) Health Certificate (issued after you passed the physical examination)
(5)Overseas Students Visa Application Letter(Issued by Zhejiang Business Technology Institute);
(6) 1 passport-size photos (2-inch)
(7) Residence Permit Application Fee (400 RMB for validation period within one year;800RMB for valication period for more than one year)
(8) A copy of the Accommodation Registration Form