Introduction of Huaqiao University
Huaqiao University, established in 1960, is situated in a famous overseas Chinese hometown——Quanzhou city, in Fujian province. The university has two campuses, one is the main campus in Quanzhou and the other one is the new campus in Xiamen.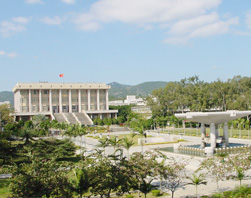 Huaqiao University, which is run by the Office of Overseas Chinese Affairs under the State Council, is a comprehensive establishment belonging to the Chinese government's priority project, and it is a base for cultivating undergraduates. Meanwhile, Huaqiao University is also a main base for Chinese government carrying out the Chinese language education programs in overseas areas, and it is one of the initial educational institutions which was given an excellent review in the regular undergraduate course teaching assessment held by the Chinese Ministry of Education. The incumbent president is Prof. Qiu Jin, doctoral supervisor of history of Sino-foreign relationship.
With its original purpose of 'Orientation towards Overseas Areas, Orientation towards Hong Kong, Macao and Taiwan' and 'Serving Overseas Chinese, Imparting Chinese Culture'; its idea of 'Educating Students to Thoroughly Understand China and Other Countries, Cultivating Students to Possess both Laudable Ethics and High-level Professionalism', Huaqiao University has developed into a model feature of 'One University with Two Types of Students, Teaching according to Students' abilities', a campus culture of 'One Dominating Traditional Culture Mixed with Others' and a campus spirit of 'Toleration Oriented, Harmonious but Distinct'. Huaqiao University was established 47 years ago. Since then, it has cultivated over 80,000 talents all over the world, including over 38000 international students from over forty different countries.