1. Tuitions
Courses in Chinese language and culture ( Registration ¥ 312/year)
| | | | | |
| --- | --- | --- | --- | --- |
| Length of stay | 1 month | 2 months | 1 semester | 2 semesters |
| Tuition | ¥ 2,340 | ¥ 4.290 | ¥ 7.020 | ¥ 14.040 |
Non-degree, undergraduate, graduate and advanced visiting scholars programs(Registration ¥ 312/year)
Programs

Arts and social sciences
(annual fee)

Sciences and engineering
(annual fee)

Non-degree and undergraduate

¥ 1 4.040

¥ 1 6.380

Master's degree

¥ 15.600

¥ 2 0.280

Doctoral degree

¥ 2 0.280

¥ 31. 200

Advanced visiting scholars

¥ 20.280

¥ 31. 200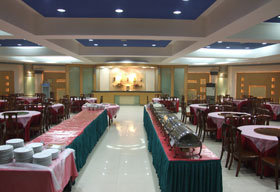 2. Housing fees (for students staying for more than 3 months)
| | | |
| --- | --- | --- |
| Room Style | Facilities | Fee |
| Double | Washroom, air-conditioner, color TV, telephone,wide band | ¥ 31 person/day |
| Double | air-conditioner,color TV,telephone | ¥6000 person/year |
| Single | Washroom, ari-conditioner, color TV, telephone,wide band | ¥ 47  person/day |
| Four people | Air-conditioner, color TV, telephone | ¥ 3000 person/year |
The International Student Building is equipped with a kitchen, refrigerator, washing machine, IC telephone, and hot drinking water facilities on each floor. Hot water is available around the clock, and heating is provided in winter.
CICE has two buildings with over 300 rooms in different styles -- single, double, standard, and suite rooms. CICE's Computer Lab gives access to the Internet for students. Other facilities and services include fax, photocopying machines, and air and train tickets reservation.
3. Board
Food services are available in CICE's Dining Hall. It costs approximately ¥600 a month for a student to eat in the Dining Hall.
Academic Calendar
Fall semester: Late August---Mid January
Spring semester: Late February---Mid July