Shihezi University is a new comprehensive university, located in Shihezi, the Garden City, located by the river of Manas on the northern foot of the Tianshan Mountains in Xinjiang.In August 2000, the Central Government designated the university as a key institution to develop in northwestern China.Shihezi University was ranked among the key construted university under the "211 project" in Dec 31,2008.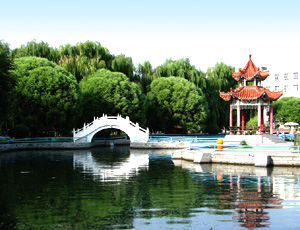 It is one of the universities that recruit Chinese government scholarship students and is granted by Ministry of Education of China to teach medical international students in English. Shihezi University is one of the international medical higher educational institutes recognized by WHO (World Health Organization).
  Shihezi University offers ten specialties--Agriculture, Medicine, Engineering, Economics and Trade, Management, Literature and Arts, Sciences, Education, Law, and History. The university has 20 colleges, offering 4 doctorate degrees, 52 masters degrees, 66 bachelors degrees programs, 5 specialties that enroll on-job-teachers for masters degrees, 1 post-doctoral scientific work stations, 2 post-doctoral mobile stations. The university has jointly set up graduate education bases with Peking University and Tianjin University, as well as a program for culture-oriented quality-education for Chinese university students. The university has 11 disciplines of Ministry of Agriculture, Xinjiang Uygur Autonomous Region (XUAR) and the Xinjiang Production and Construction Corps (XPCC), 3 key laboratories co-constructed and supported by the Ministry of Education, the Ministry of Science and Technology, and the XPCC, it has 2 key laboratories of XPCC, 2 key bases for art and scientific research and 24 graduate schools and research centers. The university has become one of key scientific research bases of XPCC and XUAR.
  The University now has a faculty of 2,607, including 1,527 full-time teachers, 2 specially-engaged academician of the Chinese Academy of Engineering, 152 professors, 450 associate professors. The university employs more than 10 foreign experts and teachers every year. The students of the university come from 31 provinces and regions. The total enrollment of students numbers 30,032, including 21,989 undergraduates 1,906 postgraduates and 245 international students from eight countries, such as United States, Russia, Pakistan, Kazakstan, South Korea etc.
  The University is equipped with the most up-to-date teaching and scientific research facilities. It has a well-equipped library, a large gymnasium, a multi-functional stadium and modernized teaching buildings. The University covers 1,870, 000 square meters. It has 950,000 square meters of building, and the area of its laboratories is 170,000 square meters .The library has a collection of 2,900,000 Chinese and foreign books and periodicals, and is only one model project in Xinjiang, as university digital libraries in State High-tech Project 863.There is also a book collection spot of UN's Food and Agriculture Organization (FAO) in it.
Brief Introduction to Shihezi University School of Medicine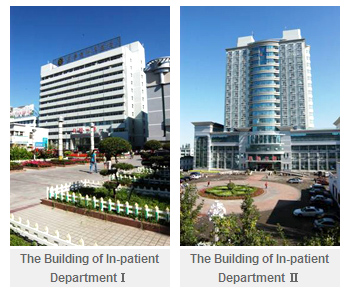 The Building of In-patient DepartmentⅠ The Building of In-patient Department Ⅱ located in the "Garden City" of Shihezi city, at the northern foot of the Tianshan Mountains in Xinjiang Uyghur's' Autonomous Region, School of Medicine belongs to Shihezi University, a university with the given name of a "Key University" in the west of China by the central government, with the compatible help of Beijing University and under the administrative authority of the central government and the Xinjiang Production and Construction Group (XPCG).In the long history of this School, a fine tradition of civilization, exuberance, solidarity, preciseness, honesty has established by staff and school fellow of generations. To meet the needs of this country, more than 17000 medical elite with different specialties have been raised in the past 60 years since the laying of its foundation.
At present, Shihezi University School of Medicine has Clinical Medicine, Dentistry, Medical Imaging, Medical laboratory, Preventive Medicine majors and Nursing major for under-graduates. It offers 14 academic areas for seekers of master's degree, 1 key laboratory constructed by the Ministry of Education and the XPCG. In 2009 there are 2316 undergraduates, 583 graduates, 161 International students in this school , they came from 29 provinces and autonomous regions over this country and in the world. Shihezi University School of Medicine has 327 full time teachers and researchers, 55 professors and 93 associate professors among them, It has 30 affiliated Hospitals or clinical practice hospitals, with 10 of them bearing the Honored Title of "A-Degree in Level-Three Hospitals" and the First Affiliated Hospital bears both honored titles of " A-Degree in Level-Three Hospitals " and " The 100 Best Hospitals in P.R.China"
Shihezi University has extensively established exchange programs with universities and colleges of the United States, Russia, New Zealand, Canada, Australia, Austria, Japan, and South Korea.