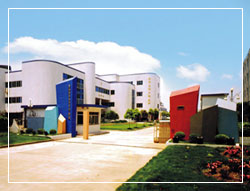 Shanghai Finance University (SFU), once called Shanghai Fincance College, is a full time academic institution aiming at cultivating practical economic and financial talents. It was founded by the People's Bank of China (China's Central Bank) in 1952. It is co-run by both Shanghai Municipal government and Shanghai Education Committee since 2000. It has become the sole undergraduate education institution, with finance in its name in Shanghai and the Yangtze Delta District. During the past fifty years, SFU has committed to providing a large number of economic and finacial talents for the whole country. SFU started to enrol foreign students in 1993. As the number of foreign students has been increasing year by year, their learning and living environments have been improved gradually.

SFU consisits of Pu Xi and Pu Dong two campuses with an area of about 380,000m2. Around 460 thousand books and varies kinds of newspapers and magazines are stored in the library. SFU has an excellent schooling environment. There are multi-media rooms, computer labs, e-reading rooms, training bases and a variety of educational facilities on campus. Campus internet has been available for many years. SFU is equipped with standard sports field and different kind of entertainment equipment special for students. High standard appartments for students have been put into use already.

During the summer vocation of 2005 the dormitory building for foreign students has been decorated once again. Now every room is equipped with air-conditioner, telephone, refrigerator and cable television. Public kitchen and network interface are also offered here. Rully-auto washers are available in the public laundry.

SFU warmly welcome foreigners and compatriots from Hong Kong, Macao and Taiwan to come to study.