About GCU
1.1General information
Our college covers an area of 283 acres, and is still a very new college. Guangzhou College received its first students in 2006. Currently it has 14 schools and 30 Bachelor specialties, with a total of about 17,586 registered students. Guangzhou College is supported by South China University of Technology, one of the 48 key universities in China.
As an "independent college", it has its own flexibility. The college adheres to its ideology of "being supported by SCUT, focusing on the quality of education and establishing our own cultures and features". For the past years, Guangzhou College has been one of the Top 20 Independent Colleges in China.
Over the years, Guangzhou College has built various channels of cooperation with overseas universities from over 10 countries like the USA, Canada, France, the Netherlands, U.K., Germany, Australia, Japan, India and Taiwan regions. These extensive international exchanges in teaching and research have promoted the link between staffs and students, which has enhanced the prestige of the college.
1.2 Summary of majors
Guangzhou College is a multidisciplinary school focusing on engineering. It has about 14 schools, which are:
-Automotive Engineering
-Mechanical Engineering
-Electrical Engineering
-Electronic & Information Engineering
-Computer Engineering
-Economics
-Management
-Foreign Languages
-Jewelry
-Architecture
-Civil Engineering
-Communication Engineering School
-International Business school
-International Engineering School
These schools cover industry, business, economy, arts and science—5 different disciplines. It has already been operating 30 specialties such as Automobile Engineering, Automobile Services & Engineering, Industrial Design, Mechanical Engineering and Automation, Marketing, International Business and Trade, English, Japanese, Architecture and Traffic Engineering etc. There were 17586 registered students in the college by November 2013.
1.3 International Business school
Most of the courses in this program are taught in English. In cooperation with Thomas University, Georgia USA, possible 3+1 and 4+0 programs, which means a double degree; from Guangzhou College in China and Thomas University in USA. Possible majors:
-Major of Accounting (Concentrations: International Accounting; International Financial Management)
-Major of International Economics and Trade (Concentrations: International Commerce; International Trade)
-Major of Marketing (International Marketing)
2.Overview of international cooperation
We have cooperation agreements with many different universities and colleges all over the world. Our most important partners are:
-Thomas University in Georgia, USA
-VIT University, Vellore, India
-Efrei, Paris, France
3.Foreign Community on Guangzhou College
Foreign Teachers
We have a team of Foreign Teachers from United States of America, Canada, United Kingdom, France, Belgium, Netherlands, Austria, South Africa and Australia. These teachers conduct English classes, French classes and International related subjects (in English). The team of Foreign Teachers is growing rapidly and even though some majors that are fully taught in Chinese, some students will receive Oral English classes.
English Activity Club
Every Thursday evening the Foreign Teachers and English Association organize English Activity club, where Foreign Teachers host different activities like: English resume and application letter checking, extra oral English, discussion groups, English karaoke, English cinema. All students and teachers are invited
4.Admission Requirements
4.1Admission Requirements for Non-degree Chinese language course
-On-line Application Form
-Photocopy of passport
-certificate of education
4.2Admission Requirements for Undergraduate Program( Chinese Media)
-On-line Application Form
-Photocopy of passport
-diploma and transcript for senior high school, translated to English and certificated/notarized by Chinese embassy or consulate in your country
- Chinese proficiency certificate(HSK4)
4.3 Admission Requirements for dual degree Program with Thomas University
-On-line Application Form
-Photocopy of passport
-diploma and transcript for senior high school, translated to English and evaluated/notarized by WES (World Education Service: www.wes.org)
- IELTS 5.0 or higher or TOEFL (Internet-based) 61 or higher
- Chinese proficiency certificate(HSK4),must be provided before the beginning of Year4 in GCU
5.Arrival on campus
5.1 Buddy program
Guangzhou College aims to provide all International students with a Chinese student buddy. These Chinese students volunteer to help international visitors settling down. These students can help when encountering a language barrier or finding places in Guangzhou/Huadu.
5.2 Facilities on campus
-35 Basketball courts
- Tennis courts
- Gym
- 4 Canteens
5.2.6 Student unions
We have several student unions on our campus. Such as a Volleyball association, Shuttlecock, Taekwando, Martial arts, Ballroom dancing, Magic, Calligraphy and Street dance. Both Foreign teachers and students can join these associations.
6.Finance
6.1Tuition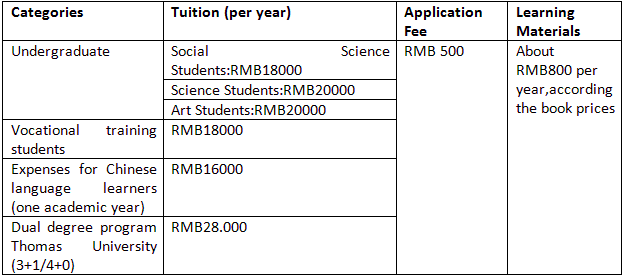 This tuition rate applies only to the 2015-2016 cohorts. Future cohort rates are subject to annual tuition/fee increases.
6.2Housing
Our college will offer clean and neat accommodation or boarding for international students for the first time arrival. And for the first academic year, GCU will arrange free accommodation to the degree program students which is in C20 building, 4 students in one apartment, in campus of GCU. Language students and short-term exchange students will not benefit the free accommodation. The internet and other utilities will be paid by students themselves. From the second year, the accommodation fee (the internet and other utilities are not included) for 4 students in one apartment will be changed to 3,500RMB per year per student, and for 2 students in one apartment will be changed to 4,500RMB per year per student.
6.3Monthly expenses
In average students spend about 1500RMB per month on living expenses. Meals are cheap: 10RMB in the school canteen. Transportation is usually 2 to 5RMB per bus ride, but should not be used too often, since (almost) everything is available on campus.
6.4Insurance
The insurance Premium for the foreign students in China( Accident Insurance, at least RMB10.000; medical and hospitalization insurance, at least RMB400000; Death Benefit, at least RMB100.000):RMB800 for one person/ per year
7. More information
7.1 Link to photos and school website
For more information and photo's about studying in our college, please visit our website: www.studyinguangdong.com or for more information our Chinese school website: www.gcu.edu.cn
7.3 Admissions
If you like to apply for study in our college, please visit www.studyinguangdong.com website. A button to apply online will be on top of the page.