Introduction to Huaqiao University
Huaqiao University, subordinate to the Office of Overseas Chinese Affairs of the State Council (OOCASC), is a state-owned comprehensive key construction university and one of the major bases for the Chinese language and culture education.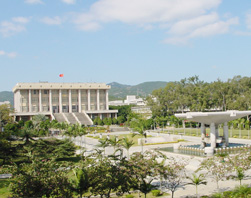 It was established in 1960, and sits in Fujian Province, China, with two campuses: Quanzhou, a historic and cultural city, and Xiamen, a Sea Pearl awarded with 'The UN Best Habitat Prize'. Based on the school-running purpose —'Serving Overseas Chinese and Spreading Chinese Cultures', Huaqiao University is academically characterized by 'Individual Students, Individualized Teaching' and 'One-culture Orientating, Multi-culture Blending'.
Chinese Language and Culture College of Huaqiao University is one of the first institutions qualified by Ministry of Education to recruit overseas students, and one of the first bases for the Chinese language and culture education, officially approved by OOCASC. As the first HSK testing centre in Fujian Province, it is also a key school supported by China Hanban (National Office of Chinese), offering services like Chinese teaching to the neighboring countries. The College (formerly Jimei Continuation School for Overseas Students) was established in 1953 by Mr. Tan Kah Kee and authorized by the State Council. For sixty years, we have cultivated over 40,000 students from home and ninety-four countries and regions. We have an excellent teaching staff, young and knowledgeable. Teachers under 35 are almost all PHD holders whose major is Chinese International Education; some professors have even scores of years' experience in overseas student education. Currently our college has over 70 full-time teachers; half of them have senior professional titles.
In pursuit of the purpose —'Serving Overseas Chinese and Spreading Chinese Cultures', the College takes the responsibility of carrying forward Chinese cultures and offers multi-level and multi-form programs, varying from bachelor's degree to college-prep education for overseas Chinese students. At present we offer a Master's degree program in Chinese Language and Cultures Education, four-year Bachelor's degree programs in Chinese International Education, Chinese Cultures Education, and Chinese Language, and a three-year diploma program in Chinese Language. Summer Chinese Class, one semester's and two semesters' classes are available anytime in a year. You can choose, out of interest or needs, Business Chinese, Tourist Chinese, Children's Chinese and Chinese Cultures, or join Elementary, Intermediate or Advanced refresher courses on a proficiency basis. We also hold many activities such as teacher training, Chinese Language Summer/Winter Camp, Chinese Cultural Root-seeking Trip, together with OOCASC and the Chinese language and cultures institutions of foreign countries. We set up 'Sino-Philippines Cultural Park', 'Chinese Class for Foreign Government Officials' and 'Chinese Culture Contest'. In recent years, the College has established overseas Confucius institutes, Confucius classrooms, Chinese schools and international schools, and developed overseas master's education, bachelor's self-taught education, teacher diploma education and short-term teacher training. All these received wide popularity abroad. So far we have had nearly 1,000 overseas students from more than 30 countries and regions, mainly from Indonesia, Thailand, the Philippines, Malaysia, South Korea, Japan, Viet Nam, America, Britain, Germany, France, and Chinese Hong Kong, Macao and Taiwan.
The College also provides overseas students with an excellent stage on which they can demonstrate their talents, and thus a mixed multi-cultural atmosphere is formed. Chinese International Education, an extravert Chinese language applied discipline admitting Chinese students, tends to cultivate high quality Chinese teachers for foreign countries. These students have been helping overseas students one-to-one in their extracurricular studies. Through this model of assistance students are able to acquire both the opportunities for practice and tutoring teachers with their major study. Students from home and abroad work together to create an excellent language atmosphere by holding 'Chinese Language Technique Contest', 'Top Ten Best Singer Competition' 'Psychological Sitcom Competition', Classic Recitation Contest', 'Southeast Asian Cultural Festival', 'Southeast Asian Food Festival', 'Water-lantern Festival' and 'One-to-one Help Reporting Performance'. This mutual help and interaction characterizes the College and receives a positive affirm from the government. In 2010, Ministry of Education approved 'Teaching Chinese as a Foreign Language' (Chinese International Education) of Chinese Language and Culture College as a state-level characteristics major.
Situated in the Jimei School Village, Xiamen, our campus enjoys a very convenient transport, with picturesque sceneries overlooking sea. The College offers complete facilities for teaching and accommodation, comprising modern classrooms, language labs, multimedia classrooms, Internet classrooms,an E-library, comfortable dormitories, canteens, a supermarket and playgrounds.